Are you looking for quality dental care, but haven't been able to afford it? Great news! WeSmile Dental accepts CDC vouchers, so restorative and preventative dental solutions have never been more accessible and affordable!
Read on to find out more about what CDC vouchers are, how and where you can use them, and why you should use them to subsidise your dental care needs.
What is the CDC voucher scheme?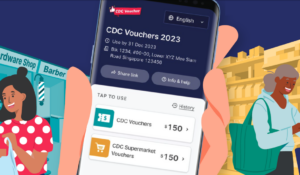 As you have probably heard, all Singaporean households received some extra cash flow in their lives on 3 January 2023! As part of an enhanced support package, a total $300 CDC Vouchers was distributed so that everyone has the opportunity to purchase goods and services from local businesses like hawkers and heartland merchants, as well as take advantage special offers at supermarkets. It's time to start saving up – or shopping around – for what you need most!
What can CDC vouchers be used for?
With the CDC voucher scheme you can enjoy $150 of fresh groceries at participating supermarkets and another $150 for all sorts of items on your wishlist. That new outfit or that overdue hair appointment – they're now within reach with these vouchers.
How to redeem my CDC vouchers?
Ready to make the most of your CDC vouchers? With just a few clicks you can redeem and use them for shopping.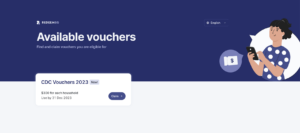 Visit go.gov.sg/cdcv, log in with Singpass on behalf of your household, and receive an SMS containing all voucher links – then forward it to your household members so everyone can benefit from these great offers!
When ready to pay at a shop, select what kind of vouchers you want to use, then hit 'Show Voucher', display the QR code that appears and one simple scan will complete payment instantly – done and dusted!
Do CDC vouchers expire?
Yes! Make sure you make use of this great opportunity before it expires on 31 December 2023.
Where can I use CDC vouchers?
With CDC vouchers, you can enjoy delicious and affordable meals at participating hawkers, heartland merchants and supermarkets! To use the vouchers wherever they're accepted, just look out for their distinct teal decals in local eateries or yellow ones at supermarkets. Plus, find more information that helps get you closer to saving money & exact stores that accept CDC vouchers near you – go.gov.sg/cdcvouchers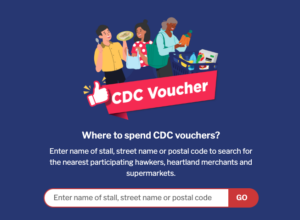 Pssst… WeSmile Dental is one of the participating merchants! Read on to find out how to use your CDC vouchers for dental care!
Getting dental care using CDC vouchers
As the pandemic continues to affect people around the world, oral health gets left behind. People are so consumed with taking care of their basic needs and protecting themselves from virus exposure that they often neglect their dental health care.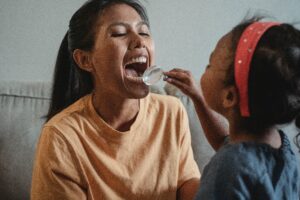 Have you been holding off from getting that much-needed dental care?
It's time to cross something off that "to do" list!
Here at WeSmile Dental, we offer quality services and accept CDC vouchers in both our clinics.
We are committed to providing top-notch dental care without compromising on the safety of our patients. With an experienced team of dentists and hygienists, flexible appointment times, convenient payment plans and our commitment to accept your government funded CDC vouchers – you can now get the oral health solution you've been searching for!
What dental treatments can be paid with the CDC voucher?
Even if a routine checkup is something you long for, it may be difficult to find an affordable solution or one that accepts your insurance plan.
WeSmile Dental Clinic believes everyone should have access to quality dental services – which is why we're excited to announce that we accept CDC vouchers at our clinic in exchange for all treatments, including maintenance works such as cleanings, x-rays, cavity fillings and more.
Here are some common dental treatments you may wish to use your CDC vouchers for:
Scaling and Polishing Dental Treatment using the CDC vouchers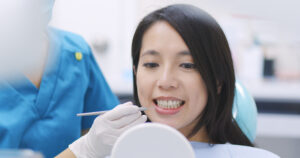 Keeping your pearly whites looking their best doesn't have to be a difficult task! Scaling and polishing are essential treatments that help maintain great oral health. With the removal of plaque, tartar and other deposits from teeth surfaces as well as minor stains in polishes, these two procedures keep our smiles gleaming for years to come.
We are here to make this process even easier with CDC vouchers accepted for scaling & polishing services – you provide us with the voucher at no additional cost – sounds like one less thing (at least!) on your plate today! So get ready those shining ivory grins; we've got you covered at WeSmile Dental!
Learn more about our scaling and polishing treatment.
Teeth Whitening cost subsidised using the CDC vouchers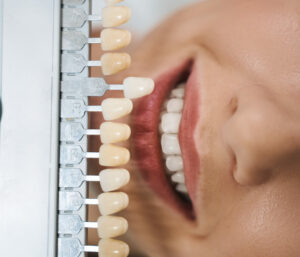 A smile is one of the first things people notice, so why not make yours bright and beautiful?
At WeSmile Dental, we offer effective teeth whitening treatments that promises a brilliant white finish, such as take-home whitening kits and in-clinic whitening. The bleaching process helps to remove any discoloration or staining on your teeth, resulting in a brighter, whiter smile.
And with WeSmile Dental accepting CDC vouchers, you can save money on your journey to confidence! Our experienced dental professionals are here every step of the way – from consultation through aftercare – giving you peace-of-mind as well as brighter whites. So take advantage this amazing opportunity today; show off your pearly smiles tomorrow!
Find out more about the various teeth whitening treatments available.
Tooth extraction cost subsidised using the CDC vouchers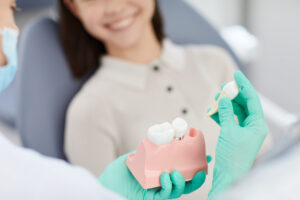 Tooth extraction is a common dental procedure that is performed when a tooth has decayed, diseased or injured beyond repair. The process involves the removal of an entire tooth from its socket in the bone. This is done to prevent further damage to adjacent teeth and to restore normal functioning of the mouth. Tooth extractions can also help relieve pain and infection.
At WeSmile Dental, we understand that tooth extractions can be a difficult dental procedure to go through – especially when it comes to finances and affordability. That's why we accept CDC vouchers for tooth extraction services – so you can take advantage of this cost-savings benefit and get the treatment you need without putting a strain on your budget.
Learn more about our tooth extraction services and cost.
All dental treatments can be subsidised using CDC vouchers at WeSmile Dental
At WeSmile Dental, we understand that access to quality dental care can be a challenge for many people. That's why we are committed to making it easier and more affordable than ever with our acceptance of CDC vouchers. Our goal is to provide everyone with the best possible oral health care services at a price they can afford.
From cleanings to whitening and more, rest assured that WeSmile Dental has you covered with the help of CDC vouchers. So what are you waiting for? Schedule an appointment today and let us help you get the dental care you need – without breaking the bank!
Learn more about our services and our prices that are kept affordable, even without CDC vouchers.